Home
Books
News
Reviews
JW's Bio
JW's Blog
FAQs
Order
Links
Contact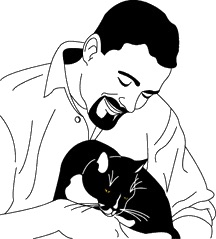 Copyright &copy 2005-2018


---




---
Timeline:
2017
2016
2015
2014
2013
2012
2011


JW's Blog: Keep Writing!

©2018. Unauthorized use and/or duplication of this material without express written permission from this site's author is strictly prohibited. Excerpts and links may be used, provided that full and clear credit is given to Jonathan Westbrook along with a link to the original content.

12/18/2018 - Loglines to My Favorite Christmas Movies

Loglines are one or two sentences describing a movie during an elevator pitch, and I thought it would be fun to come up with some loglines to my Top 10 Christmas movie list from my last post.

Santa Claus is Comin' to Town – An orphaned Kris Kringle becomes Saint Nicholas after a gust of wind blows his crib to the Mountain of Whispering Winds, where the animals hide him from the evil Winter Warlock.

The Muppets Christmas Carol (1992) – A Christmas Carol retold through the eyes of a rodent-like creature offering us the story of Scrooge as he makes amends to his mistreated amphibian employee, a frog by the name of Bob Cratchit.

Nestor, the Long-Eared Christmas Donkey (1977) – Nestor becomes the beast of burden for Mary and Joseph as they make their pilgrimage to Bethlehem.

The Nightmare Before Christmas (1993) – Jack Skelllington, the King of Halloween Town, kidnaps Santa in an effort to re-invent himself, but he discovers the world isn't ready for his scary version of Christmas.

Frosty the Snowman (1969) – A magician's magical hat brings to life a snowman who must make a long journey to the North Pole in order to survive, but can his good natured innocence be enough to save him and the little girl who travels with him?

Rudolf the Red-Nosed Reindeer (1964) – Forced into isolation because of his glaring red nose, Rudolph must find himself before he can save Christmas during an exceptionally foggy night.

Elf (2003) – One of Santa's elves learns he his human and goes to New York City in search of his real father, all the while spreading Christmas cheer in a world of cynics.

A Charlie Brown Christmas (1965) – A young boy, always down on his luck, finds the true meaning of Christmas after his efforts to direct a Christmas play are ignored and he his mocked by his peers.

How the Grinch Stole Christmas (1966) – A solitary creature with garlic in his soul emerges from his mountain dwelling in an attempt to steal Christmas from the unknowing residents of Whoville below.

The Year Without a Santa Claus (1974) – Jingle and Jangle are North Pole elves sent down to find Christmas cheer among the humans, but they won't find any unless they can first make a deal with Mother Nature's children; two hotheaded boys, Snowmiser and Heatmiser.


---
12/8/2018 - My Top 10 Christmas Movies

10) Santa Claus is Comin' to Town (1970)
Fred Astaire narrates this film about how Santa Claus and Claus-related Christmas traditions came to be. I especially like the Winter Warlock and the Burgermeister Meisterburger. The song "Put One Foot in Front of the Other" is a memorable one.

9) The Muppets Christmas Carol (1992)
Jim Henson Productions' version of A Christmas Carol would be much higher on my list if it weren't for the annoying Gonzo and his rat-pal Rizzo as narrators. I've always liked Michael Caine as an actor and Kermit as Bob Cratchit is perfect, though I hadn't realized that this Kermit is voiced by Steve Whitmire because Jim Henson had passed two years earlier.

8) Nestor, the Long-Eared Donkey (1977)
What? You say that you've never even heard of this one? Well, check it out and you'll be laughing at the absurdness of it. It was produced by Rankin/Bass Productions, the same folks who brought us the animated franchises of Rudolph and Frosty. So enjoy it and say hello to Spieltoe (pronounced spew-toe) for me.

7) The Nightmare Before Christmas (1993)
Is this a Christmas or Halloween movie? Regardless, I like to watch it in October, and it gently leads me into getting ready for Christmas, unlike the shock of seeing Christmas decorations suddenly on display in stores before Thanksgiving.

6) Frosty the Snowman (1969)
"Happy Birthday!" says Frosty every time he comes to life by donning the magician's magical hat. It's Frosty's innocence and caring nature that endures us to him and [spoiler alert] it's equally as heart-wrenching when he melts into a puddle.

5) Rudolf the Red-Nosed Reindeer (1964)
A classic: this is the telling of the song by the same name plus added bonus stories of Yukon Cornelius, the Bumble, Hermie, Claurice, and the Misfits. Rudolph exclaims, "She likes me. She really likes me!" We all do, Rudolph, we all do.

4) Elf (2003)
I had only seen bits and pieces of this movie previously because I don't care for Will Farrell as an actor, but I just watched the whole thing the other night with my family and it jumped straight to number 4. What a riot! (A bottle of wine that night may have helped its rating).

3) A Charlie Brown Christmas (1965)
Poor Charlie Brown and his lackluster tree, but he keeps on trucking. He never loses that Christmas spirit.

2) How the Grinch Stole Christmas (1966)
Who doesn't love the miserable ol' Grinch? And his little dog Max! And when the Grinch's heart grows 3 times bigger, Christmas is saved! I have placed this as my number two because of Boris Karloff narration and his singing, "You're a mean one." It totally makes this movie for me. Others have sung it since but there's no comparison. The new 2018 movie is getting good reviews, so I look forward to seeing that too. Maybe it'll be on this list for next year.

And drum roll please…

1) The Year Without a Santa Claus (1974)
By far, this stands out above the rest for me because of Snowmiser and Heatmiser and their sibling rivalry. Their songs alone are what make this a classic, but when Mother Nature yells, "Boys!" and they respond, "Yes, mother dear," it's the best. When Mrs. Claus sends elves Jingle and Jangle out into the world to find Christmas spirit and children around the world respond by giving Santa a day off, it creates international headlines with its message of altruism. However, one little girl will miss Santa and she writes to tell him she'll have a "Blue Christmas" without him (selfish much?). Touched by the outpouring of appreciation, Santa reinstates Christmas and hurries to make his Christmas Eve ride. 5 stars!


---
11/6/2018 - Nightmare Acres Lights Out

Scary things don't really scare me.

Whether it's a movie or a gory Halloween costume or a walk through a haunted forest, none of them really frighten me. Sometimes I'll get startled and that makes the fright better, but I know they're not real so I usually just laugh at them.

My wife and I have done haunted walks in the past, where high school kids jump out at you and scream in your face. They were fun at the time, but not scary.

Recently, we did a Haunted House attraction in Ogunquit, ME, and it was so not worth the $8 to get in as the old movie theater it was held in was more interesting than the haunt.

Anyway, these past walkthroughs were a mere scurry of a mouse compared to the scare of the Lights Out event at Nightmare Acres located off of Rte. 5 in South Windsor, CT. on Governor's Highway.

Before purchasing the tickets, I read disclaimers of claustrophobia, heart condition warnings, the use of strobe lights, and uneven ground; the usual stuff for a fright fest. But what got me was, "You will be given one glow stick per 6 to 8 person group," and "Children under 14 are not allowed," which meant it could actually be scary.

I bought 4 tickets and at $15 per person it was totally worth it.

Nomads has an outdoor adventure park with zip lines and an obstacle course during the summer, and this is where Nightmare Acres runs every weekend in October with the Lights Out portion only on the first weekend in November. Nightmare Acres is not a part of Nomads, but a separate entity.

So walking in under hanging wooden bridges in the dark, hearing a recording of a crow cawing and eating its carrion, and seeing odd shapes in the woods was enough to set the mood prior to the start of the haunted walk.

Before we were let in we heard a spiel about following red glow sticks. If we wanted out or got lost, there was staff with blue glow stick necklaces to help. We were given a green glow stick and I, as the designated leader, was in charge of holding it.

Without giving too much away, we had a great time! I was indeed startled a couple of times and my wife screamed more than once, as well as the others in our group.

[Spoilers] At one point we had to squeeze through an air bag corridor called "The Birth Canal." For me, holding the glow stick, it wasn't so bad, but for those behind me the air bag closed them off from the little light and placed them in total darkness. Even after we were "born" it was completely black because I had covered the glow stick with my hands. Once the others were out and asking, "Where's Jonny? Where's the glow stick?" I let out a scream that scared the bejesus out of them all. It was fantastic!

I'm still laughing at how good I got them.

What also made this very enjoyable were the actors. This was not a bunch of high schoolers screaming in your face, but some well thought out dialog which enhanced the nightmarish scenes.

There was a trick maze as a finale, which was a great way to finish off the 30-40 minute walk with a feeling of being trapped. We all loved it. I wanted to do it again right away, but we went out for drinks afterward instead.

My only recommendation to Nightmare Acres is, if it rains, please place wood chips or saw dust down on the muddy parts of the path.

Regardless of that, I highly recommend this Halloween attraction and can't wait to revisit it again next year.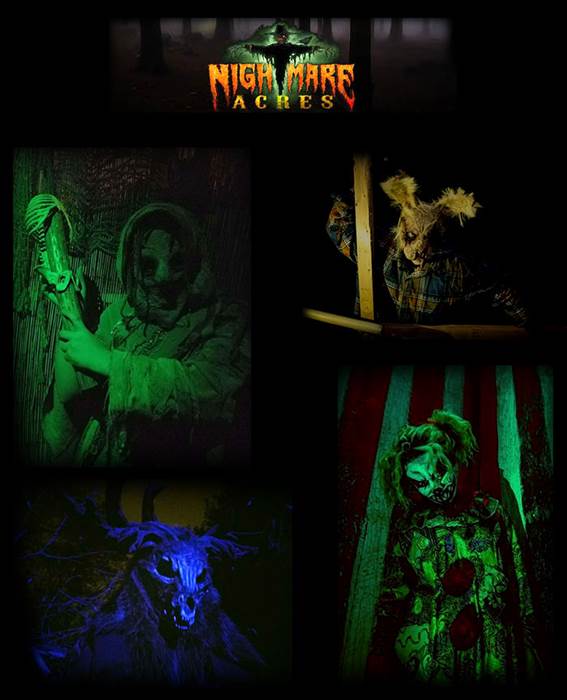 Images acquired using Google search.


---
9/2/2018 - A Tick Bite Can Turn You Into A Vegetarian

Recently, I came across a post from a friend about a new deadly spider, from which you could die with just one bite from its pointy, venomous fangs. Someone else responded, having checked with snopes.com, telling us the article was false. Thank goodness.

As any good father would do though, I showed the post to my daughter to scare her.

Ha-ha, not really, but I did use the posting to convey to her that she shouldn't always believe what she reads on the internet.

A few days later I read about bites from Lone Star ticks turning people into vegetarians.

Well, I had to look this one up, and surprisingly, it's true! An increasing number of people are becoming allergic to red meat. Can you imagine?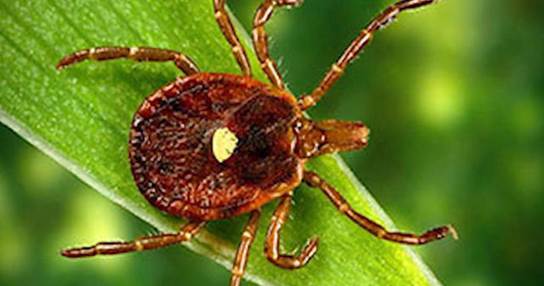 Image, courtesy of cbsnews.com, shows a female Lone Star tick with its unique yellow-leaf marking on its back.

A bite from a Lone Star tick can trigger an immune response to alpha gal, a sugar found in beef, lamb, venison and pork.

Symptoms include redness and itching, stomach problems, and in severe cases, anaphylaxis, which can be a life-threatening allergic reaction.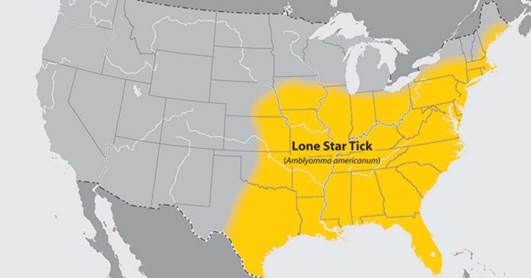 Image, courtesy of snacksafely.com, shows the current territory of the Lone Star tick.

The CDC website has a list of recommendations on how to avoid ticks and tick-borne illnesses, which include:

Avoid wooded and brushy areas with high grass and leaf litter, and walk in the center of wooded trails.
Treat outdoor clothing and gear with the insecticide permethrin.
Use an insect repellent containing at least 20 percent DEET.
If you find a tick on the skin, remove it right away. Use tweezers and pinch the tick near its mouth parts, pulling it out slowly in a continuous motion. Don't twist it, which might leave tick parts behind in the skin.
Tick-borne diseases, including Lyme disease, Rocky Mountain spotted fever, and tularemia, can lead to distinctive rashes.
Check yourself, your kids, and pets for ticks after spending time outdoors.
Bathe or shower as soon as possible after coming indoors (preferably within two hours) to wash off and more easily find ticks that are crawling on you.
Tumble dry clothes in a dryer on high heat for 10 minutes to kill ticks on dry clothing after you come indoors.
Or just stay inside. Hey, I already have Lyme disease; I don't want to give up eating red meat too.


---
5/27/2018 - The Funny Man Has Fallen

Last night I watched the Netflix special presentation of Steve Martin and Martin Short. It was okay. Actually, it was mediocre and nothing to write about. Except, in it, the comedians were bashing some of their Hollywood cohorts and along came a dig on Bill Cosby. I don't remember the exact joke but essentially it was, "Don't let him mix you a drink." That bit was definitely not funny.

Bill Cosby has been recently convicted on three counts of aggravated assault against Andrea Constand, a Temple University staffer, in 2004. He's 80 now so that would have made him 66 then.

And there have been many more accusations and claims from other women in this #MeToo era.

Why? Why would one of the funniest comedians in the world have to drug women in order to have sex with him?

I don't get it. If he wanted sex so badly he could have hired a prostitute. If having to pay money for it was a turn-off, I'm sure he could have had plenty of women if he only asked.

I mean, if you ask a hundred people for a kiss (and by kiss I mean sex), one of them will say yes, right? And I'm pretty sure your chances increase tenfold if you're famous and have money.

As a kid I first remember watching Cosby on I SPY with Robert Culp, and then the cartoon show Fat Albert, but what I remember him most for was his comedy albums, especially Wonderfulness, which has the classic sketches Chicken Heart, Tonsils, Niagara Falls, The Playground, and Go Carts on it. His was the only recorded stand-up comedy that I really enjoyed. Not only were his stories hilarious, they were spot-on insightful.

Later, he had the number one comedy show on TV, The Cosby Show, which aired from 1984 to 1992. Everybody knew of the Huxtable family.

Cosby has 4 Emmys and 9 Grammys. The man had been awarded around 60 Honorary Degrees, most of which have since been rescinded.

Now he has next to nothing, except for a bad reputation.

Bill Cosby is more than likely going to prison, which I'm torn over. I don't condone what he did, but it saddens me thinking of him ending up this way. At his age, he could very well die behind bars. You reap what you sow, I guess.

The Chicken Heart has come for him. It's outside his door. Stupid kid.

Why do all the greats seem to have something wrong with them?


---
4/1/2018 - Eating in the Raw?

Not too too long ago I blogged about a Chinese restaurant that opened up here in CT, where the customers get naked to dine and how I wouldn't be able to get in the buff to eat for a variety of reasons.

Well, this blog isn't about eating in the raw again, but about not eating raw foods.

My wife boiled some eggs yesterday for us all to color for the Easter Bunny to hide, and after finding them this morning, I sat down to eat one. But it was under cooked I thought. It smelled okay and the white was fine, but the yolk had slimy green moisture around it. I didn't even want to attempt getting sick, so I threw it out. The second one too. And then the whole lot.

And thus the idea for today's write up...

We all know to avoid eating raw meat and eggs (no steak tar-tar or Rocky Balboa diet for this guy), but here are some facts about raw food that may surprise you…

Potatoes
My wife recently told our daughter that her father used to eat raw potatoes like apples. Not only are potatoes hard to digest raw, but if left out for too long they can turn green and develop a toxin called solanine, which can cause food poisoning.

Yucca
Raw yucca contain cyanogenic glycosides; chemicals that release cyanide when eaten raw. The root vegetable is a staple of South America as it is packed with vitamins and minerals; just make sure it's cooked before you eat it.

Kidney Beans
I was surprised by this one. Eating them raw can wreak havoc on your stomach as they contain the toxin phytohemagglutinin. Hmm, I use these in my infamous homemade chili, I guess I better make sure they're cooked well.

Hot Dogs
Not the most nutritious food as it is, but don't eat them raw as it could be very dangerous. Packaged hot dogs can become contaminated with the bacteria Listeria, which can only be killed by reheating the partially pre-cooked dogs. Mmm, now I'm looking forward to the Fourth of July cookout.

Milk
Ever wonder why your milk is pasteurized? Well, now you won't have to. Raw milk can contain harmful bacteria like E. coli and Salmonella, so don't go sucking straight from a cow's teat.

Bitter Almonds
Meet the evil twin of Sweet Almonds. It would only take about 70 bitter almonds to kill a fully grown adult due to hydrocyanic acid; a dangerous combination of hydrogen cyanide and water. Thankfully they're safe once cooked.

Flour
Not only are there raw eggs in cookie dough, but I bet you never thought about the raw flour that's in it. In recent years, the FDA has identified raw flour as potentially dangerous until cooked.

And thus concludes my PSA for today, Easter Sunday. Happy eating!


---
3/25/2018 - Significant Inventions by State

The people of these United States have always been known for their forward thinking and forging unknown territories. In unique and opportune ways, Americans have come up with some of the world's most important inventions, but have you ever wondered which are the most significant to come out of each state? Well, wonder no more…

Alabama – electric hearing aid (1895)
Alaska – kayak (date unknown)
Arizona – taser gun (1993)
Arkansas – sound added to film (talkies) (1927)
California – iPhone (2007)
Colorado – tampon (1929)
Connecticut – vulcanized rubber (think tires) (1845)
Delaware – kevlar (1965)
District of Columbia – morse code/telegraph (1840)
Florida – personal computer (IBM) (1981)
Georgia – cotton gin (1794)
Hawaii – surfboard (1910)
Idaho – television (1926)
Illinois – mobile phone (1973)
Indiana – gasoline pump (1905)
Iowa – gas-powered tractor (1892)
Kansas – helicopter (1913)
Kentucky – gas mask (1912)
Louisiana – binocular microscope (1850)
Maine – underwater dive suit (1834)
Maryland – latex medical gloves (1894)
Massachusetts – World Wide Web (1989)
Michigan – assembly line (1901)
Minnesota – implantable pacemaker (1957)
Mississippi – nystatin (anti-fungal med) (1950)
Missouri – vacuum (1898)
Montana – portable heart monitor (1962)
Nebraska – ski lift (1936)
Nevada – blue jeans (1873)
New Hampshire – Old Farmer's Almanac (1792)
New Jersey – air conditioning (1902)
New Mexico – atomic bomb (1945)
New York – credit card (1949)
North Carolina – airplane (1903)
North Dakota – Cream of Wheat (1893)
Ohio – automobile (1891)
Oklahoma – parking meter (1935)
Oregon – computer mouse (1967)
Pennsylvania – fire hydrant (1801)
Rhode Island – diner (1872)
South Carolina – military submarine (1863)
South Dakota – cyclotron (1939)
Tennessee – supermarket (1916)
Texas – typewriter (1913)
Utah – electric traffic light (1912)
Vermont – paddle wheel steamer (boat) (1826)
Virginia – Trebark camouflage (1970)
Washington – Microsoft Windows (1985)
West Virginia – steamboat (1787)
Wisconsin – space suit (1955)
Wyoming – shovel handle (1879)


---
3/18/2018 - The Need to Label, Categorize, and Create Lists

I like to make lists. My daughter's passion for them may stem from me as well. If she reads this one day, well, sweetheart, this is where you might get it from … your dear old Dad.

Is it a genetic trait? I don't remember my Mom or Dad making lists other than for trips to the grocery store, so no, I don't think so.

Is it a form of OCD or a need to control my surroundings that I've passed along to her? Maybe, but I really think it's more human nature than anything else. We all need to label and categorize things to some degree to better understanding them.

The desire for creating lists may come at an early age when we create a Christmas wish list of our most desired toys for Santa's Good list. Early science teaches us to categorize everything else.

Bucket lists. Song playlists. And Top 10 internet lists of anything you could think of. People like lists. They especially fit into the way people read on the internet, because they either satisfy a limited attention span (have you even gotten this far) or it's the best way to share popular items on screen.

Lists can be very good at grouping random things too. Football and Chess can both be examples on a Favorite Games list, for example. Or they can be more practical. The last list I made outside of blogging was for our vacation in Maine. I wanted to make sure I brought everything I wanted to, and I'll be damned if I didn't forget some things anyway! Ha-ha.

Here's what prompted these thoughts…and yes, it's a list I saw on the interwebs…

Top 8 Places for Stargazing
Death Valley National Park, California
Mauna Kea, Hawaii
Natural Bridges National Monument, Utah
Big Bend National Park, Texas
Cherry Springs State park, Pennsylvania
Denali National Park, Alaska
Glacier National Park, Montana
Kitt Peak National Observatory, Arizona
I want to take my daughter to one of these places someday so that she may see the awe and wonder of the universe by seeing the majestic view above us, but I had nothing else to say about it, so this blog expanded to be about lists instead. See how my mind works?


---
3/11/2018 - 19 Crimes and The Dead South

I like wine as much as I like Blue Grass music, which isn't very often, but I just found one of each that are noteworthy to write about.

I recently created a list of food and drink that are supposedly good for you at my age and one of them is a glass of red wine (everything in moderation, right?), so I had asked my wife if she would buy me some that I might like.

I asked her because she drinks wine on a regular basis and knows a lot more about them than I do. In other words, my wife has a more discernable taste.

For instance, in my early twenties, the only wine that I would drink was Riunite, which I would only drink to get drunk on. I didn't really care for its taste, if beer wasn't available or if a girlfriend wanted wine, then this is what we would drink.

I don't like bitter wine like my wife does. So she brought home a bottle for me thinking I would like its sweetness. And I do.

19 Crimes – The Uprising
"This wine pays homage to Australia's 'Rum Rebellion' and thus a portion has been aged for 30 days in rum barrels. Dark with jammy flavors and a smokey finish."

It is very tasty. And then I tried the app called Living Wine Labels, where you point your phone's camera at the bottle's label and the figure pictured on it becomes animated and tells you a story, which reminds me of the paintings and pictures in the Harry Potter series. Amazing! It makes me want to buy all of their bottles just to try out the app on them. What a gimmick!

So what does 19 Crimes have to do with Blue Grass music? Absolutely nothing, except that it is something new that I recently tried also.

I came across a group of musicians, The Dead South, a quartet of Canadians formed in 2012. Yup, Canadians. Not that there is anything wrong with that, I just don't think of Canadians when I think of Blue Grass music. If nothing else, it's unconventional in my mind, just like the group and their music.

The band refer to themselves as the evil twins of Mumford and Sons, as their explicit lyrics lean toward the dark and violent interpretation of old west pioneers.

After I heard and watched the video In Hell I'll Be In Good Company, I purchased the Good Company album, and I enjoy the whole thing. It's a nice change of pace from what I normally listen to, so I'm putting them on my "would like to see live" list.

Anyhow, if you're looking to try something new, a change of pace for your taste buds and eardrums, I recommend listening to The Dead South over a bottle of 19 Crimes.

Let me know what you think when you do.


---
3/4/2018 - Let's Get Lit

The most popular Urban Dictionary definition for "lit" is, "The state of being intoxicated (regardless of the intoxicating agent)."

Today, though, lit has taken on a new meaning, like when something is "turned up" or "popping."

Me: Did you go to the concert last night?
Them: Yeah! That shit was lit!

In the 60s, maybe earlier, lit was used by blues and jazz musicians to describe the "sweet spot" in which someone was relaxed and would play better.

Perhaps lit came from the performers being "on fire" during their show, I don't know.

Regardless, it's interesting how vernacular changes over the years. I was once at a party of considerably younger people (I was in my 30s and was the oldest there by at least 10 years), when I was asked, "Do you burn?"

Burn? Burn what? I had no idea what he was asking me.

It turns out he wanted to know if I smoked pot. Duh. I can be a dullard at times.

I told him no, but that's not to say that I hadn't tried it back when I was his age. I just never really cared for it, because the few times that I tried it, it used to put me to sleep so what was the point? Amiright? My point is back in the day we used to just come out and say, "Do you get high?"

Anyway, back to lit… the website of Merriam Webster is quoted, "Though the 'drunk' meaning of lit has a pedigree stretching back over a century, it is still considered slang, it doesn't have the same sort of all-purpose use that drunk does, and it still shows up generally in very informal settings, like speech and rap lyrics. In fact, the 'intoxicated' sense of lit has had a resurgence of use among a new generation of youth thanks in no small part to rap."

So if you hear a young person talking about something being lit, don't worry, it most likely means something was excellent or they had a great time, but parents should still lock up their liquor cabinet though, just in case.

Cheers!

And here's a shout out to my little girl who turns 9 today. Happy Birthday! I hope it's lit!


---
2/18/2018 - Rite of Religion

Other than for weddings or funerals, I haven't been to church since I was in the eighth grade. I have chosen not to because I don't believe in organized religion.

That said, I would like to go to a black congregational church service.

The movies always show their Sunday services as such a great time. The music is uplifting. There is jubilant singing, clapping, dancing, and shouting. Hands are thrust into the air in praise. Preachers actually preach. There are people dressed in their finest clothes fainting in the aisles. Can I get an AMEN?!?! All of it seems like a grand celebration.

Does this actually happen? Are there church services like this in real life?

If so, perhaps if I had grown up experiencing this kind of celebration, maybe I would have ended up being a devote church goer, but Protestants are a mellow bunch (to be read as boring) and when I was old enough to make my own decision whether or not to go I chose not to. I split the scene as soon as I received my bible.

The lack of enthusiasm I encountered growing up does not mean I'm looking to find God now nor am I looking to find myself through God either. I would just like to experience in person the kind of energy and surround myself in the belief found in Gospel and its services.

But I don't think I could just walk into a predominantly black congregation without feeling uncomfortable, which is sad. It's not a race thing for me, but rather it's just not my world.

Just as heads would turn if I walked into black church, I think a black man walking into a white church would elicit the same response. Unfortunately, in today's world, tolerances would be tested.

Is this what separates us? We are one as a species, so is it this difference that makes us not get along? Not just black and white, but with all: Religion is a huge separator. How could it not be? Not only do we have different gods to worship, but we have different ways to worship.

Maybe if I were invited by a member of a black congregation. Maybe if they knew I was coming for a visit and that I wasn't coming to make fun of or to harm anyone. Maybe then I could do it.


---
2/12/2018 - Day of the Dead

My wife and I took our daughter to see the movie Coco recently and we all really enjoyed it. Any movie that can move me from laughter to tears and back again is a fantastic testament to the writers and animators at Pixar. In fact, Jeannine said it was the best animated movie she'd ever seen, which is really saying something because she doesn't generally care for animated flicks.

Coco is about a young boy, Miguel, who is an aspiring musician confronted by his family's self-imposed ban on music, so he enters the Land of the Dead to find his great-great-grandfather, a legendary singer, to help him.

Besides the story itself, I found the Mexican tradition of celebrating their dead to be very intriguing. Unlike our Halloween, where we are practically raised to fear scary things like the dead, the Day of the Dead, or Día de Muertos, is something much more uplifting.

So I decided to look into it.

According to Wikipedia, the multi-day holiday focuses on gatherings of family and friends to pray for and remember friends and family members who have died, and help support their spiritual journey. Traditions connected with the holiday include building private altars called ofrendas.

The dead are honored.

Frances Ann Day summarizes the three-day celebration, "On October 31, All Hallows Eve, the children make a children's altar to invite the angelitos (spirits of dead children) to come back for a visit. November 1 is All Saints Day, and the adult spirits will come to visit. November 2 is All Souls Day, when families go to the cemetery to decorate the graves and tombs of their relatives. The three-day fiesta is filled with marigolds, the flowers of the dead; muertos, the bread of the dead; sugar skulls; cardboard skeletons; tissue paper decorations; fruit and nuts; incense, and other traditional foods and decorations."

The dead are not forgotten.

I love this idea. Not only does this help generations to come know their past, to know their family, but it must give great comfort to the elderly to know that they won't be forgotten. That has got to be the closest way that I know of to being immortal, so I'll say it again, I love this idea.

How did the Day of the Dead begin? I couldn't find the answer to that. Similar to Halloween, where our offerings are supposed to keep the ghouls away, perhaps the Mexican holiday started as a superstition that if you didn't honor the dead they would come back to haunt you.

My wife and I joked about wanting to start observing the Day of the Dead as our own family tradition. It seems more practical somehow than carving pumpkins and hanging plastic spiders up in fake spider webs.

Since my dad's death I have visited his grave every year on his birthday, but it's been a solitary act. If we were to adapt the Day of the Dead into our household, he and others will be honored even more by the whole family.


---
2/4/2018 - Nicholas Pigolas: The First Snorting Pig

When my daughter gets into a giggly laughing fit there's no stopping her and she often snorts while trying to catch her breath, which of course gets her laughing and snorting more. The other day we were laughing it up in the car when she starts snorting and then she proceeded to tell me a story about the first snorting pig. I found it amusing, so I told her to write it down when we got home.

You may not be amused by it. It may very well be one of those "you had to be there" moments, but as a proud dad I wanted to share. I hope you enjoy it. Remember she is only 8.

Nicholas Pigolas: The First Snorting Pig

Once upon a time there was a pig named Nicholas. One day he was laughing so hard that he snorted. His friends stopped what they were doing. One of them said, "What was that sound you just made?"

"I don't know," said Nicholas. "I think I just snorted."

"How did you do that?"

"I don't know," Nicholas answered, then he snorted again and again until everyone else was snorting too.

A few minutes later, one of his other friends shouted out, "What are we called?"

A silence fell across the field.

Nicholas finally said, "Hmm. We should be called pigs, after me, because I was the first snorter."

Then everyone shouted, "PIGS!"

The End.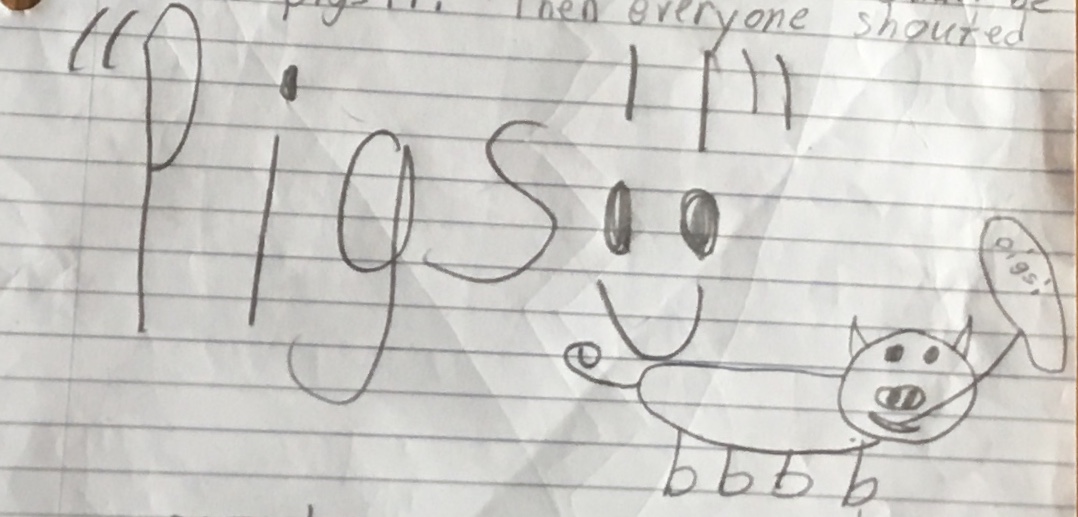 ---
1/30/2018 - After My Last Post

I post links to this blog on all of my social media in hope that it will attract new readers and to give easy access for those who wish to return to my site.

After last week's post about my calling BS! to an article about how men need to grow up and throw some things out of their house, my lovely wife, Jeannine, responded on facebook with "I have a feeling I would agree with this article."

Ouch. That hurts. Why? Well, because…

1) She doesn't read my blog.

She says she "lives with it every day" so why should she take time out of her day to read it?

How about because I don't usually talk to her about my blogs? Heck, I usually don't talk much at all, so maybe she would like to know my thoughts on particular nothings. Perhaps she thinks my thoughts about nothing are worth, well, nothing.

2) She would agree with the article.

She doesn't like my stuff "cluttering" up our house. I realize most of my stuff is folderol, but it is our house.

She takes after her dad, wanting to throw everything out that's been hanging around for any length of time. If it's not being used then it needs to be in a basket (she's big on baskets), up in the attic, or in a filing or curio cabinet.

Most of my stuff gets delegated to the partially finished basement, but there's no furniture down there to hang out on so I don't spend a lot of time down there.

We had a conversation the other day (yes, we do sometimes speak to each other) about down-sizing once the kids move out. My wife and I are in agreement that we would look for a single level house.

When that time comes, I'll get rid of a lot of my useless crap because there won't be any room for it. But until then, Jeannine and Mr. Bible can bite me.

And honey, on the off chance that you're reading this, I like my stuff and it's all here to stay until I retire.


---
1/21/2018 - I'm Calling BullSh*t!

I came across a web page that states "38 Items No Man Over 40 Should Have in His Home" through MSN Lifestyle and I immediately cried bullsh*t!

I won't go through all 38 items, because some I agree with, but here are several that I call BS! on:

1: Figurines in Boxes.
The article claims that to be a man over 40 is to not have any toys in the house unless you have kids and it has the gall to claim I must live alone for having any of those toys in a box on a shelf for display. I call BS! Some toys will be worth something someday. If only I had held on to my G.I. Joes with the kung-fu grip from my childhood.

2: Posters without Frames.
I used to work in theaters back in the 80s and 90s. This allowed me to collect some pretty cool posters. But hey, I can't afford to frame them all, not to mention not having the wall space to hang them. I do agree that the Jim Morrison poster that you've been hanging on to since high school should probably go, so I'm only calling half BS! on this one.

3: Trophies.
"Unless your life's work merited a Nobel Peace Prize or maybe even an Emmy or Oscar, nobody gives a hoot about your past glories on the field." I call BS! What's wrong with having a "me" wall? Besides, it's not for others to see, but for me. That's what a "me" wall is for.

4: Mismatched dishes.
Who the eff cares? I'm not throwing dinner parties for snobs, like the person who wrote this article is.

5: Sports Paraphernalia.
I'm not a sports fan and I don't own anything with a team logo on it. But I still call BS! If a man wants to be surrounded by his favorite team's memorabilia, then he should. I don't care if he's in his twenties or one-hundred-and-one. If he finds enjoyment in it then I say let him be.

6: Glassware with Logos.
The article wants me to trash all of the random glasses and/or mugs that have logos or funny sayings on them. This is just like the matching dishes. Who cares? This is BS!

7: Wire or Plastic Hangers.
Um, hello? The article says that sorting through clothes (they misspelled it "close") on nice wooden hangers can make getting dressed a "more pleasant experience." I call BS! If a hanger is functional then use it.

Who wrote this crap?

I Googled the author, Adam Bible. He's a freelance writer who has a multitude of other articles in various magazines. Good for him. If you wish to read the article you may find it here.

But don't bother.

Even though I agree with some of his claims (like not using sheets as curtains) it's quite clear that Mr. Bible has no idea on how a man over 40 should live regarding these other items.

A man over 40 should be confident in what he believes in and how he cares to live HIS life. Whether we collect toys or own wire hangers doesn't have anything to do with our "need" to grow up. No sir, not at all.

And yes, Mr. Bible, great sex can be had on a futon. You should give it a try sometime.


---
1/6/2018 - Happy New Year!

2017 has passed. Goodbye. So long. Adios. Adieu.

I spent a lot of the year confidently pitching a screenplay to movie execs. I came close with one but ultimately they decided not to take my rom-com to the next step, deeming it too similar to A Wedding Ringer, starring Kevin Hart.

I had never heard of it before, so I went and watched it, and yes there were similarities but the premise was completely different. My initial thought was, "Doesn't every movie have some similarities?"

I mean, my guy hides his job because it's not the normal kind of job, where society in general might frown upon it, but their jobs are completely different. Hart's character gets hired to be the best man at weddings, mine breaks up people for a living. They both lose the girl when she finds out what they do and the men try to win her back, but IMO, that's where the similarities stop.

But that's not what bothered me. I knew going into this that there could be a million-and-one reasons for them to say no. No, it wasn't that. I became disgruntled with the whole process. Not that they didn't optioned my screenplay, but that it took me several emails just to hear the "We're no longer interested because..."

I realize that the exes are under no obligation to me, but common curtesy would dictate a response, yes? Even a form letter would have sufficed. But to be ghosted, not knowing if they even read it, or if it lay on the bottom of an infinite slush pile, was unbearable.

So what did I do? I wrote a new screenplay and I'll try pitching it this year. Wish me luck. Ha-ha!

Another thing I will be doing this year is I'll be seeing Taylor Swift in concert, July 28th at Gillette Stadium. And here's a funny story I need to share with you about it regardless if you're a Swiftie too.

First I want to tell you that I blame the death of Prince for my actions. I had always wanted to see Prince live, but I was never proactive about it and now it's too late. I kick myself for it.

So, when I heard about Taylor's upcoming tour, I wanted to make sure I saw her.

Anyway, Taylor wants to sell to her fans first, kudos to her, so anyone who signed up and performed certain tasks on her website, like watching and sharing her videos, received "boosts." What these boosts did was place me on a priority list for the venue of my choice. Then, depending on the level of my boosts, they gave me a window of time to purchase my tickets before the general public.

Right. I ended up about half-way on the pre-sale priority list. I'm a fan, but I'm not going to go all fan-boy over anybody to be first on a list.

So the day came and I went online to get my single ticket. I used the Ticket Master app, and it showed me a seat that wasn't half bad. Mind you, tickets are held for minutes at a time. You snooze, you lose, so I clicked the purchase button.

The app came back with an error message: "Your cart is empty. Please try again."

Shit. That seat was lost. So I tried again and the seat wasn't as good. Oh well. Click. A second time I see, "Your cart is empty. Please try again." Uh oh. Forget it, I said, and left the app to go straight to the Ticket Master website, where I logged in and tried again. The seat assigned to me (also timed) wasn't as good as the first 2, but I clicked on it anyway.

Yay! It worked this time with a confirmation of my purchase. But, given my trouble with the first two, I went to my email just to make sure I received an actual ticket.

And what did I find? I saw confirmation emails that I had purchased 3 separate tickets. Ugh!

Now the tickets weren't cheap and I can't afford to buy 3 of them, so I called Ticket Master and explained everything, and they told me they were very sorry to hear it, but "All Sales Are FINAL." It didn't matter to them that their app was faulty.

I then called the credit card company and explained everything again and they said that I couldn't submit a dispute until the charges actually showed up on my card. Fair enough.

Once the charges appeared I called and explained again, "Can you help me? I need your strong arm to get me out of paying for 3 when all I wanted was 1? I don't have screen shots of the app error, but obviously, if I wanted 3 tickets, I would have bought them together."

"No problem, Mr. Westbrook. We will begin the dispute process right away for you."

That is customer service right there. Are you reading this, Ticket Master?

My only despair is if I don't win the dispute and I end up having to pay for all 3. That's going to be one hell of an expensive concert. Also, at this moment I don't really know which seat I'm going to end up with, but at least I'll get to see Taylor Swift in concert.

Here's to 2018!


---